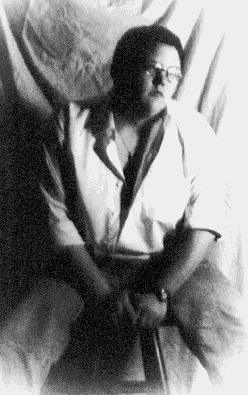 Ok... well, you took all the trouble to get here, so I might as well tell you a bit about myself. I am 17, though not for much longer, thank godess. I am a freshman at SUNY Purchase, in White Plains, NY. I am an Anthropology major, with aspirations of being a social worker who specializes in working with gay, lesbian, bisexual, and transgendered youth. I am minoring in Lesbian and Gay Studies and Womens Studies.

My intrests are widely varied... I have a passion for reading. My favorite authors are Leslie Feinberg, V.C. Andrews, Sidney Sheldon, and Poppy Z. Brite, to name a few. I have a great love of photography, especially black and white. The best book of photography that I have come across is "Nothing But The Girl", a book of lesbian imagery. It is full of beautiful pictures. Horses, I think, are the most beautiful animals in the world. I used to have one, Mighty Tango, and he was not simply a horse, he was my best friend. And last of all, but which consumes much time, i am an internet junkie.

Well, that is a brief description of me. If you have any questions or comments, feel free to email me.
Back to homepage